There's many bands out there attempting a fusion of music styles known as 'space funk' but the genre these days is filled to overflowing with those musicians who insist in tackling this tricky kind of sonic terrain without first making sure they have the feel for the stuff in the first place. No worries on that front with Toronto natives Chameleon Project who have just naturally nailed it all down pat as they cue up psychedelic jam band funk with outside jazz overtones and the kind of organ-based Latino shake that reared its head with a vengeance on early Santana albums. Funk N' Space is every bit the real deal as advertised with the musicianship and emotional heft required to get the job done. – Rod Nicholson >
Gashouse Radio reviews Chameleon Project: "artistic heavyweights with ambition and skill to spare."
The Chameleon Project – Funk 'n' Space, May.19.2017
BEATPORT: https://www.beatport.com/release/funk-n-space/1762589
This album restores your faith a little. The Chameleon Project certainly proves there are young musicians working today confident enough to smash through any barriers, cultural or otherwise, in order to find the measure of their artistic goals. The Chameleon Project is Toronto based quartet who make very little challenge out of mashing together a number of musical approaches and making it sound like these possibilities existed all along and were merely waiting for someone to pick them up. Josh Laing and his cohorts have done so with spectacular results. Funk n Space's ten songs sparkle with the musical ingenuity that might leave some listeners slack-jawed with their ability to bring it all together and make it sound like it is little trouble at all. They marry unlikely styles like reggae, EDM, groovy jazz, and rock into an union engaging listeners cerebrally and physically.   [expand title="Read more"]
The cerebral and physical both have a place at the table on the album opener "Milky Way". There are contrasting musical elements working together on this track to make it an excellent kick off for Funk n Space – namely the hard hitting and well recorded drums juxtaposed against a suitably funky keyboard line. There's real melodic sophistication in this piece that continues with the next song "Playhouse", but the funky edge of the first tracks turns more towards a disco sort of sound here while retaining many of the qualities heard in the first song. Their, perhaps, surprising affinity for reggae is revealed on the album's third song "Steppin'" and it never sounds like The Chameleon Project strains for effect. Instead, it reveals why the band's name is particularly appropriate. This is a four piece who can blend into a number of different musical guises without ever surrendering certain key parts of their sound – namely melody, instrumental excellence, and a vivid production style that puts all of these songs in the sharpest of reliefs.
The EDM pulse opening "Reactor" soon shifts into a blazing back and forth between multiple synth lines without ever losing clear dimensions and the quick introduction of guitar causes the texture to change and there are multiple changes to follow with the synth and six string alike leading the way. The occasional interjection of human voices on Funk n Space never embraces traditional vocals, but voice overs instead, and "Reactor" features some particularly fiery passages with dueling synth lines. "Bigfoot" mixes some rock music inclinations, centered on Josh Laing's guitar, with more electronic touches in a way that neatly dovetails into one another. The languid tempo beginning the album's final track, "Wako" experiences a number of transformations during its six plus minute running time and the band uses this finale as a compelling platform to explore their array of styles in a sort of musical summation. It ends Funk n Space on quite a memorable note and demonstrates for the last time on this release that The Chameleon Project are artistic heavyweights with ambition and skill to spare.  [/expand]

Skopemag.com reviews Chameleon Project: "will entertain and sink its hooks into your imagination"! - May 19th, 2017
Based out of Toronto, the livetronica outfit The Chameleon Project provides a master class in genre hybridization with their unique and highly individual synthesis of funk, EDM, experimental rock, and slinky jazz grooves, among other elements. Their latest release Funk 'n' Space is a remarkable outing for this quartet and they pull off their sonic explorations with a combination of the mental and physical outstripping similar efforts in this area. Others have often noted the similarities between the Chameleon Project and other outfits like The Disco Biscuits, STS9, and Soulive, but the results guitarist/FX maven/sampler Josh Laing, bassist Snappy Homefry, drummer Kevin Lee, and keyboardist Jordan Quinn produce are distinct and proudly individual. This is music capable of touching music listeners on both a purely physical and mental level. Funk 'n' Space will entertain and sink its hooks into your imagination on the basis of the outfit's great talents and never panders once to their intended audience.  [expand title="Read more"]
BANDCAMP: https://chameleonproject.bandcamp.com/album/funk-n-space
The opener "Milky Way" begins with strongly melodic keyboard lines and steady drumming before slipping into a cool and ultra-confident groove. There's a lot going on here, but The Chameleon Project keeps things from ever feeling too cluttered. The guitar work has a clean sound, for the most part, and a nicely chiming quality nicely dovetailing into the arrangement. The vocal content is minimal, but effective. It's an excellent and comparatively low key way for listeners to meet the band. "Playhouse", as its title implies, is much less dreamy than the opener and has a visceral quality audiences will immediately connect with. The band's artful approach, however, is evident in how the rambunctiousness never seems messy or unduly cluttered. A glistening keyboard sheen begins the song "Steppin'" and it's accompanied by some stentorian spoken word vocals at the beginning. It soon transitions into a spacey, even slightly psychedelic, reggae lope sure to hook in many listeners from the first. It follows that groove for the entirety of the tune, but The Chameleon Project never taxes listeners patience as it remains immensely likeable throughout.
"Reactor" takes the band back to their EDM influences with heavy synth lines and propulsive drumming coming together in the intro. More elements are added as the track progresses and the guitar coming into the picture shortly after the opening has the same nicely melodic quality we've heard elsewhere on the album. It's a near ideal example of how talented the band is at bringing together various disparate elements. "Bigfoot" exhibits some of the band's rock predilections in a way that most bands of that ilk wouldn't dare. The guitar work is wiry and imaginative, but also harbors the necessary tension to keep listeners glued to their speakers. The album finale "Wako" is a much more overtly experimental track than most on Funk n Space, but it retains the same genre crossing coherence defining the album as a whole. The album's final two tracks are remixes of earlier numbers and show their talent for re-envisioning their own material. Funk n Space is the real deal and The Chameleon Project, with their constantly on the move creativity, are an aptly named band.
I-TUNES: https://itunes.apple.com/us/album/funk-n-space/id1107925621
Lydia Hillenburg
[/expand
The Chameleon Project's Funk 'n' Space is eight songs of surefooted exploration delving into a number of styles, throwing them into a blender, and coming out with something highly individual and nearly impossible to duplicate. The band's avowed influences come through at certain points but, overall, The Chameleon Project spins through sonic territory where few bands would have either the chops or bravery to make things work out for them.  [expand title="Read more"]
The songs are probably a bit longer than you might expect and some might accuse the Toronto four piece of having too many ideas for their own good, but even the fact that not a single song on Funk 'n' Space is less than four minutes in length doesn't mean that this tracks are self-satisfied and self-indulgent. This seems like one of the collections where there's never a word or note too many and the band's songwriting was a finished product when they hit the studio besides a few judicious tweaks. Despite that, however, it never sounds overly constructed.
Few songs illustrate that better than the opener Milky Way. It brings funk and jazz together in a way you seldom here – the drumming and keyboard work are straight from the retro minded school of seminal seventies and eighties funk, but the changes and subtleties of the musical arrangement is crammed full of the idiosyncrasies one might associate with jazzy flourishes rather than George Clinton.
Playhouse, the album's second track, is a much straighter disco track without any of the glittery tinsel that normally makes the style sound glossy but without any real substance. Instead, there's subtleties galore in what seems like, on the surface, to be one of Funk 'n' Space's more straightforward songs.
Steppin' is one of the album's most successful numbers thanks to its astonishing stew of sounds that never obscures, but rather enhances, the reggae heart breathing just below the surface. Drummer Ricky Rockalotta deserves special mention here, as he does on the opener, for the impeccable groove he lays down.
Kraken shows off the experimental rock that occasionally comes out of this band. It begins with some appropriate ambient and synthesizer induced sounds before  moving into a track with strong guitars, dramatic turns, and even a light sense of dread that you don't hear on earlier songs.
Reactor merges guitar rock with EDM without one ever weakening the other and comes off, in the end, as one of the album's truly memorable creative high points.
DiMiTri cOde is, arguably, the album's most challenging use of synths and other electronica with an often sternum rattling pulse at the center of it. It's a near perfect prelude for the final moment of Funk 'n' Space, Wako, where The Chameleon Project manage to top everything that came before and unveil an ambitious closer incorporating all of the best elements of their approach into one track. There are few bands reckless or daring enough to today to navigate their way through a trip like this and emerge from the other side artistically stronger than when they began. The Chameleon Project, however, are exactly that sort of band.  [/expand]

The power and undeniable energy that The Chameleon Project brings to the ten songs on Funk n Space isn't something we've heard much of in recent years. The Toronto four piece burn with rare ambition bringing together an array of musical styles into a signature approach that doesn't seem like it would work, but nonetheless sparks with genuine and artful creativity. Led by guitarist and vocalist Josh Laing, the quartet tackles the songs with a wild and wooly willingness to try anything once and the gambler mentality driving these compositions and performances make Funk n Space a truly revelatory experience. This fiery blend of funk, EDM, disco, jazz, dub, and rock is absolutely irresistible. They show some obvious influences from bands like The Disco Biscuits, John Scofield, and Bonobo, but there's little question before half of the album has concluded that The Chameleon Project play by their own rules and make it work on the basis of talent alone.  [expand title="Read more"]
Despite the influences cited above, The Chameleon Project has their own identity and it's clear from the outset. "Milky Way" takes a number of musical elements onto its back and makes it all work. The keyboards and drumming are particularly effective here and the incidental human voices rising out of the mix are further adornments that set the performance apart here and elsewhere on the album. It's a relatively bold move to open your album with the second longest song on the release, coming in at a little over six minutes in length, but "Milky Way" never feels that long and there doesn't seem to be even a sliver of wasted motion in the track. "Steppin'" shares a similar economy despite its length and shows off the band's penchant for pouring old wine into new bottles with ingenious revamping of standard reggae tropes. It mixes the electronic textures that are one of the band's hallmarks with the usual approach to this form. This primarily instrumental album continues to impress with the art rock style distinguishing "Kraken", though it is a little disheartening to hear such an obviously intelligent band opt for ambient aquatic songs in a song about a water beast. It makes sense for them to do so and they never succumb to overkill, but it just seems a little too obvious.
"Reactor" is the first outright foray into EDM territory, but The Chameleon Project mixes up the punches with some stunning guitar work that achieves unexpected lyrical heights thanks to its phrasing. It makes utter sense to pair this track with the follow up "Bigfoot" – The Chameleon Project opts to go even more sharply in a rock music direction with its forceful drumming, but they keep things surprising with an approach to the guitar playing quite distinct from what we would hear mainstream rock acts ever dare. The final song on Funk n Space, "Wako", shows a little bit of playfulness, but it's largely a kind of final musical statement summarizing everything the band's covered to this point. It can stand on its own, however, as a monumental fusion of the band's tendencies rather than merely elaborating on what has come before.  Funk n Space has the sort of keen-eared take on genre hopping that such experiments deserve, but they've also managed to craft an album with the potential to appeal across a wide spectrum.
SOUNDCLOUD: https://soundcloud.com/chameleonproject
Scott Wigley  [/expand]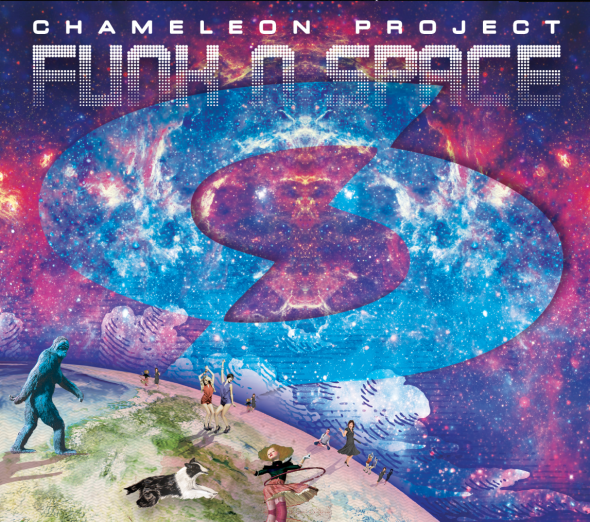 The Chameleon Project's most recent album "Funk 'n' Space" has just been reviewed by "The Rock Doctor" on gonzookagan.com. According to the review, we don't sound like any other band...we always kinda knew that. Read the kind words below:
FUNK'N'SPACE Chameleon Project (Last Tango/ independent) ***
Well, well, well… talk about being outside my wheelhouse! Chameleon Project are a Toronto based band that combines syncopated grooves with the dissonance of jazz and the liquidity of electronica. It's not the sort of thing you sit down and analyze or wonder 'what are they trying to get at'. Whether it's the soundtrack to a rave or you're just trying to get some shit done around the house, Funk'n'Space has the energy you're looking for.   [expand title="Read more"]
I can only think of one other CD in my collection of 5,000 that even comes close to this, an old Propellerheads disc. It, too, is basically electronic soundscapes with odd spoken word inserts, which feels weird unless you're open to it. The focus here is on rhythm and texture, in some cases with a bit of a retro feel. That's all thanks to Snappy Homefry on bass, Kevin Lee on drums and samples, founder Josh Laing on guitar, FX and real time sampling, and Jordan Quinn on keys. All are said to be avid students of music history and theory, with a diversely curated palette.
Chameleon Project combines the authenticity of live music with the psyche of electronica to create music for the body and mind, and their gigs are said to be pulsating dance parties powered by a contagious energy. The bio I got with this download says they've performed at a number of festivals I've never heard of and compares them to a number of bands I am not familiar with. I can, however, confirm that Funk'n'Space is a good album to throw on when you're trying to get some stuff done.
ESSENTIALS: Kraken, Wako, Steppin'
http://gonzookanagan.com/music-reviews-by-john-the-rock-do…/  [/expand]

INTERVIEW: Chameleon Project
How would you classify your music?
Psychedelic Dance Music, Livetronica, Jamtronica, Acid Jazz, Fusion… unlike pretty much everything else out there.
Who are some of your top 5 musical influences?
1. Jazz Greats – Grant Green, Charlie Parker, Herbie Hancock, John Coletrane, Donald Byrd etc. 2. Grateful Dead 3.King Tubby  4. Steely Dan  4. Drum & Bass (Squarepusher, Amon Tobin, Roni Size etc.  5. Funkadelic.
What do you want fans to take from your music?
A voyage into intelligent dance music where catchy melody and soud texture keep the brain engaged while the beat keeps the body moving.  Also a fun dance party where anything can happen.  [expand title="Read more"]
How's the music scene in your locale?
Toronto is a competitive market, as a world class city and the largest in Canada there are always big name act coming to town and smaller acts aspiring to tour here. The club scene here has become difficult due to venues closing in the face of gentrification and condos.  The electronic music scene is strong and dance music has a large following.
What is the best concert you have been to? What do you like most about playing live?
One of the best concerts I have seen was Phish at Alpine Valley, WI in 1997 and a close second was Gordon Lightfoot at Massey Hall a few years ago.  What I love about playing live is the improvising and playing groove music.  If you can balance both the audience will fill the dancefloor and never leave.
Is there a song on your latest CD release here that stands out as your personal favorite, and why?
I gravitate towards Kraken.  I like songs with themes and I really am fascinated with Cryptozoology and the study of myths and monsters.  Musically I love the textures and feel changes.
How have you evolved as an artist over the last year?
The band has begun to play in the North East US again last year and if has put a sharp focus on just how different audiences in different markets are and how much more engaged American audiences tend to be if you play music they like.  It has also made it clear to us how much more you have to try and win over audiences who have never heard your band.
If you could meet, play a gig, co-write a song, have dinner, have a drink with any band or artist (dead or alive) who would it be?
Jerry Garcia/Grateful Dead.  His playing and phrasing are magically to me and every time I hear him in an interview he makes me smile.  He was a genius and a kind soul.
What's next for you?  
We will be focusing on making some follow up recordings to Funk n Space in an effort to develop our sound while plotting more live shows in Canada and the US for the fall.
Read more at http://ventsmagazine.com/2017/06/01/interview-chameleon-project/#1CDFAopoLt1sMbJS.99
[/expand]
Chameleon Project's Funk 'n' Space is "solid and accomplished" says Indie Mindy Music!
The Chameleon Project - Funk 'n' Space
URL: http://chameleonproject.ca/
The Chameleon Project is based out of the Toronto, Canada area and has established a growing reputation as one of the most inventive young acts working today. The four piece's eight track (excluding two remixes tacked on at the end) release Funk n Space shows them to be one of the foremost units today in terms of creating a fusion of various styles into a distinctive and highly unique sound. They are just as adept with the traditional elements of great music, like melody, as they are at invoking heady atmospherics with their use of electronica and spoken word passages in conjunction with one another. There is a strong underpinning of tradition making these songs go, but the surfeit of experimentation that colors the songs is equally key to making these tracks work. It's never self indulgent however. Even at their most daring, there's a mastery of fundamentals that makes this material fly.   [expand title="Read more"]
Few songs better exemplify that than the opener "Milky Way". The aforementioned atmospherics are a big part of its success, thanks especially to the even handed manner with which they are handled, but another key part of the success is the chemistry struck between the band's instrumentals. The rhythm section, above all else, makes the groove manifest itself deeply and instantly. It isn't a track, however, that browbeats listeners into submission. Instead, it's spacey overtones and a well defined funk sound that never overstays its welcome. "Playhouse" takes things in a different direction. It's much more superficially simple, but there's clear evidence for their versatility They are capable of bringing out a strong layered disco and funk influence in their music without ever overburdening the song with too much action. "Steppin'" certainly beefs up the customarily streamlined approach of reggae music and the form's influence is quite heavy in the song, but The Chameleon Project is able to bring that influence to the fore while still embellishing the track with a number of their signatures elements – sounds that would have been quite foreign to the genre's bygone icons.
They go down the electronic dance music road in the biggest way yet with the song "Reactor", but tweak listeners' expectations by bringing rock overtones into play. The often beautiful guitar lines, however, never sound out of place with the synthesizer work. The following song, "Bigfoot", steers the band toward much more definite rock music territory thanks to the thunderous rhythm section, but The Chameleon Project fortunately avoids the bash and thud so often associated with attempts to bring these influences into play. "DiMiTri cOde" recalls the earlier "Reactor" in its invocation of EDM elements, but things are played much straighter here in that regard and there's little of the rock guitar poses here that we heard in the earlier tune. Funk n Space ends with the album's seeming centerpiece – the six minute twenty six second "Wako", a cinematic and bold confluence of all the aforementioned sounds into a stunning last curtain that stakes the band's claim as one of the foremost instrumental acts (sans the aforementioned spoken word bits – not a significant amount of the album's duration) working today.   [/expand]
RELATED ARTICLE: http://livemusicnewsandreview.com/the-chameleon-project/
Montey Zike
The Chameleon Project - Funk n Space
FACEBOOK: https://www.facebook.com/chameleonprojectband/
The Chameleon Project is a true rarity in the modern music world. Few bands or artists have the audacity to engage in such virtuoso genre hopping like this Toronto headquartered quartet. The Chameleon Project seesaws between multiple styles like EDM, outright electronica, jazz, funk, disco, and even a smattering of rock among nods to other styles. It takes more than a willingness to engage in this sort of maneuvering to make it pay off however – The Chameleon Project, however, have all the necessary tools to pull it off. Funk n Space's ten songs boast impressive construction and a wildly impressive balance between intelligence and raw physicality. Despite the obvious time consuming work it took in weaving these songs together, The Chameleon Project makes these songs sound like they erupted full borne from the minds of Josh Laing and his cohorts.  [expand title="Read more"]
You'll know that this band is a different kind of beast based on the first song. "Milky Way" brings some dreamlike, even psychedelic shadings, into play along with the band's much ballyhooed command over styles like funk and groove influenced jazz. The first of those two styles are the most dominant, but Ricky Rockalotta's drumming is key as well in its ability to slyly manipulate familiar tempos to the song's advantage. "Playhouse" is a much more conventionally minded number in comparison and clearly favors the funk side of the spectrum with its pulsing disco tempos and colorful keyboards. There's a lot of energy in even the band's slower tunes, but the condensed amount of energy they manifest on this number hits a higher peak than anywhere else on the album. "Steppin'" brings a surprisingly dissonant edge that works to what is, essentially, a imaginative reggae pastiche that plays by the style's rules while breaking a few of them along the way. It's interesting to hear a young band take different genres on as reference points without ever finding themselves slavishly devoted to imitating the form. They certainly understand the style's requirements, but their skill and imagination finds them emboldened to wring new changes from these sturdy forms and they invariably succeed each time out.
"Reactor" brings rock guitar together with a strong EDM influence and makes it work without ever seeing a hint of stitching. It's perhaps one of the most impressive aspects of the band's presentation. The forms they embrace, inevitably, can all be traced back to some base musical elements, but the presentation inherent to forms like jazz and disco could scarcely be different and it's a testament to their talents for making these seemingly disparate forms come together without a hiccup. "Bigfoot" has a thumping drum beat befitting its title and an excellent combination of guitar and synth weaving magic over the top. The Chameleon Project, no matter what their songs embrace, never take shortcuts to arrive at the final result and the songs end up being a compelling statement of identity each time out. "DiMiTri cOde" is another nod in the EDM direction and has a surging quality quite unlike anything else on the album, but it nevertheless retains the same signature characteristics setting the band's music apart from similar acts. Funk n Space covers a dizzying amount of bases and entertaining as well as providing a substantive listening experience for listeners.
BANDCAMP: https://chameleonproject.bandcamp.com/album/funk-n-space  [/expand]
Michael Saulman

Hot on the scene, the Toronto-based livetronica phenom The Chameleon Project blurs the line between electronic and organic sounds to create a psychedelic dance party that stimulates the senses. Fusing elements of groove-based jazz, EDM, funk, disco, dub, reggae, and experimental rock, the music is both intelligent and visceral. Their live shows bring something new every time as the band weaves classic breaks into vivid soundscapes, seemingly effortlessly. Shows are expansions on the band's tightly-arranged studio tracks, thoughtful experiments featuring unexpected improvisations layered with unique timbres, otherworldly vocal samplings, and heavy, tight beats.  [expand title="Read more"] 
As a testament to their diverse sound, they've been compared to such disparate bands as Bonobo, Medeski Martin and Wood, STS9, John Scofield, Thievery Corporation, Soulive, and the Disco Biscuits. The Chameleon Project mixes elements of the past with modern innovations into a signature style that is full of infectious, syncopated grooves. Combining the dissonance of jazz and the liquidity of electronica, the music is a truly chromatophoric experience, frequently changing tonal colors much like that amphibian that's the band's namesake.
With a focus on rhythm and texture, the band centers around Snappy Homefry on bass and Kevin Lee on drums (and samples). Band founder Josh Laing provides melodic interest on guitar, FX and real-time sampling, and Jordan Quinn rounds out the sound on keys. Avid students of music history and theory, this introspective group paints with a diversely curated palette to create a sound that expands on their respect for past masters and forge something totally new.
From playing a rave at some underground warehouse to a jamband festival, The Chameleon Project has attracted fans from across the spectrum. With the recent release of their album Funk n' Space (2016), the band regularly tours Canada and the Northeast US. They have shared the stage with such acts as Lotus, Bassnectar, Keller Williams, EOTO, DJ Shadow, and The New Deal. Their festival chops include such Camp Bisco, Evolve, Freedom Festival, Illumination Festival and the NuJazz Festival. Combining the authenticity of live music with the psyche of electronica, The Chameleon Project adds a human element to traditional EDM. All of us at LMNR look forward to what this unique band does next. [/expand]
CBC "Big city small world" review of "Live at Camp Bisco" EP
Sebastian Buccioni, Josh Laing, Kevin Correia and Snappy Homefry tag their music 'psychedelic dance with jazz roots' but I think it does them a disservice.
Sure, they dabble with psychedelia and yes, many of them are professionally-trained jazz musicians who love improvising, but that's only half the story.
But, there's also some old-school funk and dub reggae in the mix, and I like how they emulate electronica sounds with their instruments. For me, their upcoming EP not only showcases their musical chops but also their flair for seamless eclecticism."
All Musical Colours in One
CHAMELEON PROJECT
ARE ALL MUSICAL COLOURS IN ONE
from Vol. 11 No. 23 • June 9 – 15, 2005 of View Magazine:
Sometimes you just want to say nuts to the singer– songwriters of the world, with all the introspection and headiness that comes with their kind of music. Sometimes you just want to shake your ass. That's where Toronto–based jazz/drum&bass/dub/ breaks/funk/ disco (phew!) wunderkinds The Chameleon Project come in.
Dedicated to the fine art of inspiring booty movement, Chameleon Project are set to hit Pepper Jack's this Saturday, with their bag of tricks in tow. Composed of Josh Laing (Guitar, FX, Real–time Sampling), Snappy Homefry (Bass), Adam Hutchison (keys) and Tyrone Caissie (Drums), CP's influences are all over the map, ranging from Art Blakey and Amon Tobin to Lee Morgan and The Crown Heights Affair. Their music, however, while wide–ranging in spirit, is in reality a cohesive, dance–tastic whole.  [expand title="Read more"]
If that above–listed fusion of genres seems daunting to you, don't fear. This is a salad–bowl versus melting pot kind of situation, where each part serves a distinct purpose in making the whole instead of being, well, a hodge podge. As Laing says, "We all do what we do for the good of the project. Everyone brings a piece of the puzzle to the musical table…
"The hybrid of what we play came about for many reasons, but one of the most overriding was to push the jazz repertoire into new, progressive territory and to push drum and bass and electronic music into more vital territory and out of its current state of general malaise. "We just want to strike a blow in our own little way for music that can rock the dance floor and your brain all at once."
It seemed to me that Chameleon Project aren't what one might call a jam–band, but Laing set me straight. "Well, I would say we are a jam band," he explains, "only we're trained jazz players who use jazz harmony as our basis as opposed to (the) rock harmony that most jam bands use. We're a jam–band in the sense that our sets rely a lot on in the moment—improv and on–stage communication.
"The clearest way to describe what we do is a fusion of jazz, dub and drum and bass—we call it breakbeat dub– jazz. But in reality, we play groove oriented, improvised music, and what you hear is a blend of what we listen to, are inspired by, and what we reflect back to the listener." And they are jazzy, alright, not only in certain rhythms and some of their instrumentation, but also thanks to that aforementioned improv. "Being jazz players—that's at the heart of what we do," Laing explains. "The improv provides the perfect foil for the repetitive and propulsive grooves of the rhythm section that drives the jam. The drum and the bass takes care of your body and your booty, while the improvisation over top speaks to your mind."
Chameleon Project have been doing a bit of improv off– stage lately, too, launching a new record label (Reptile Vision Records) and finding a replacement for original bassist, Jamie Kidd, who left CP to focus on production and DJing.
To fill Kidd's space in a band with such a multi–faceted sound required "a very particular type of bassist," Laing says, "one that could handle jazz standards, drum and bass and breaks feels, but also understood the bass principles of dub. That bassist ended up being the very capable Snappy Homefry from Toronto, who is fitting in perfectly. We've been rehearsing like crazy, and the Pepper Jack gig comes hot on the heels of our vinyl release at the El Mocambo in Toronto, which went amazing…"
Speaking of Pepper Jack's, what can you expect if you make it out this weekend? "Lots of groove and phat beats," Lang lists. "Thoughtful improvisations and interesting textures. Music that digs in and gets urgent, and then becomes flowing and pastoral, sometimes in one song. A type of modern psychedelia played by jazz musicians on acid, to sum up. In essence, a cool party where we just happen to be playing. The overall vibe is paramount. We also enjoy doing original arrangements of choice cover songs along with our own originals. Oh, and one more curveball—we're all instrumental." As noted at the start of all this, that's the kind of curveball you can't help but want to catch sometimes. For more info, you can check out CP on the web at, strangely enough, chameleonproject.com. [/expand]
Techno Meets Jazz
TECHNO MEETS JAZZ
THE CHAMELEON PROJECT
By Janine Toms
from the April 8, 2004 issue of Echo Weekly:
Connecting the dots between two musical worlds, The Chameleon Project brings musical diversity to the monotony of the mainstream world.
Forming in 2002, bass player Jamie Kidd was the final member in this four-piece ensemble. Products of the music programs at Humber College and York University, the members of the band are in their mid–20s, but you wouldn't know it from their influences, which include Ben Webster, Buddy Rich, Charles Mingus and Herbie Hancock.
Each player has his own preference, which keeps their compositions unexpected and constantly changing.  [expand title="Read more"]
"We all bring in different influences, so it's easy to hear jazz, funk and reggae within one tune," says Kidd about the chameleon nature of a band, whose name gives some indication of their musical concept. "It represents how we evolve and change constantly throughout our music."
The group has successfully fused the classic workings of old school jazz with the fresh rhythm of new–age techno. Kidd says he's always enjoyed playing jazz, and began drawing similarities when listening to techno music.
"I started at jazz and then I was listing to techno, which brought me back to jazz." This unlikely fusion seems natural in the band's able hands with break beats and bass grooves riding underneath guitarist Josh Laing's palette of electronica. Using samples and effects Laing's playing sits almost beyond the far reaches of jazz, just an arm's length away from convention. Sounding like John Scofield one minute, and a club dj the next, Laing pushes Chameleon into new territory. The Chameleon Project released their independent album, Stereoscope, in November 2003. The band produced the record in, well, record time.
"The entire album took only one day," assures Kidd. Most of the nine tracks on the release were recorded live, with no overdubs. The song "Broken Glass" quickly gives an indication of the band's abilities. Laing's wah pedal grooves and trigger–like time changes are tightly followed by beats from drummer Tyrone Caissie. And the tune "So What Else?" offers guitar driven melody, followed up with pulse–pumping chords by keyboardist Adam Hutchison.
Chameleon's live performance has a contagious high energy — innocent foot tapping quickly leads to potentially hazardous, full–out grooves. And for a gigging band it is surprising that they only five or six formal songs. Instead of bulked up setlists they thrive on free–form improvisation and the occasional funk–induced cover. Because of their jamband roots, a song will never sound the same twice. In addition, each of their sets is played out seamlessly, with one song blending into the next.
"We try to create a continuous flow, like a dj would, and mix elements from various tracks together to create a link between them," explains Kidd.
The abilities of the players are continuously pushed, as they jam out every tune. Their stage presence offers show goers the chance to get a look at what each player is up to.
"There's no real focal point, or front man," said Kidd. In fact, the group attempts to merge itself with its spectators. "We just want to be playing as part of the audience."
After submitting their cd, The Chameleon Project was selected to perform at this summer's Distillery Jazz Festival in Toronto. A ten–day event, the group will be one of few Toronto acts to be playing on stage in the category of electronic/jazz.
In the meantime, they are looking to broaden their fan base outside of the big city with performances lined up in Windsor and Hamilton.
Check out their website, www.chameleonproject.com, for music samples, where to buy the album, and up–and–coming gigs. Or even better, come out and see The Chameleon Project's take on modern jazz, with dj Syrum at Jimmy Jazz in Guelph on Friday April 9th.[/expand]
CD Review for Stereoscopic
CD Review for 'Stereoscopic'
from the December 2003 issue of Tribe Magazine:
This four-piece fuses drum and bass, dub and jazz in a live setting.
Most of the tracks on this release were recorded live with no overdubs, and the result is impressive.
Innovative and hypnotic grooves meet tight instrumentation.
I gotta give a special shout-out to their drummer, who must be a cyborg to keep up some of the frenetic percussion going on.
Their overall sound can be described as follows:
If you were living in a 1970s vision of "The Future" (think Logan's Run, Rollerball or Star Blazers),
this is the band that would be playing in the spaceport departure lounge as you prepare to rocket off for a weekend of zero gravity golf.
Welcome to the Chameleon Project
WELCOME THE CHAMELEON PROJECT
By Richard Rizok
from the April 2004 issue of Upfront Magazine:
For over a decade now, CJAM 91.5 FM has taken one night out of the year to honour its dedicated volunteers to campus community radio. This year is no different, so on Saturday, April 17th; CJAM is pleased to welcome all volunteers, loyal listeners and music fans to join the festivities at The Avalon Front. The award show will begin at 8pm until roughly 11pm when the stage will be cleared for one of Toronto's hottest live acts The Chameleon Project. Tribe Magazine has described The Chameleon Project's sound as, "If you were living in a 1970s vision of "the Future" (think Logan's Run, Rollerball or Star Blazers), this is the band that would be playing in the spaceport departure lounge as you prepare to rocket off for a weekend of zero gravity golf." Upfront made a trip out to Toronto to talk with the talented guitarist from The Chameleon Project, Josh Laing, about the band, their sound and what we can expect from their first live show in Windsor.  [expand title="Read more"]
Upfront: How did the band come together?
JL: We're all graduates of various Jazz programs. I went to York and got my degree there, then to Humber and did some graduate studies. While I was leaving York I had the idea of putting together an improvised combo based on the theoretical principals of Jazz but more rhythm-centric, based on electronic music and the propulsive beats therein. So I started getting like-minded people together to try to find the right people and the right chemistry to do that. I struggled with that at York, but once I got to Humber I really pushed for it. That is where I met Tyrone Caissie through a friend, that's our drummer, and we started organizing improvisation combos using the principles I learned at York. I studied free improvisation and free jazz at York and applied those principles to tonal music. I worked with Tyrone, a sax player named Shawn and bass player named Liam. As we kept going, everyone but Tyrone fell by the wayside. At the same time I had met Adam Hutchison, our keyboard player, at one of my Free Jazz workshops at York. So when his band fell apart he expressed interest in playing keys for us, and came on board. We struggled along without a bassist for a while until a friend recommended Jamie Kidd, our current bass player, not only because he went to Humber but he also spent a lot of time programming and spinning techno. He had that background as well as a jazz background, so we had that understanding. At the core of it all is Jazz, Electronic music, reggae, dub and how those foundations work together.
Upfront: How would you describe your sound?
JL: It's kind of its own hybrid. People like words to describe music so we call it breakbeat dub-jazz. Jazz is really at the core of what is going on here but we want to make it more engaging than simple swing feel in Jazz where the bass is keeping more of the time than the drums, so we've changed it around to make it more of a break-beat which is more propulsive, putting the drums out front. So really anything from uptempo funky breaks, new breaks, to laid back funk, drum and bass or trip hop depending on what the mood of the song takes. These are anchored throughout by dub, which lays down the hard bass allowing us to experiment electronically and leave a lot of space for the jam to breathe and groove in a minimal way with that upbeat reggae thing that keeps everything moving along.
Upfront: Your album "Stereoscopic" received a very favorable review in Tribe magazine. How would you describe the reaction so far to the bands first release?
JL: The reaction I have gotten from the album has been overwhelmingly good. Even record labels we sent it to in the US, who don't have time for us, say they like it and it sounds very professional, which is good. They like the music but they don't know who we are, so they're not ready to step out with it. At least they like it. The only response I have gotten from people who are close to the band is: "the album is good but your live stuff is so much more advanced from what it is on the album."
Upfront: As a live band with four members playing traditional instruments (drum, bass, guitar, keys), what makes you electronic?
JL: If you're trying to play electronic music you have to think about it a different way, you don't think of it as I'm playing this tune and then I go to this cord, you think in loops. It's very static in terms of harmony, but what electronic music is concerned with is sound texture. How the sound looks. It's not whether you're playing an E, but what that E sounds like. Does it sound nasty or dirty or does that E sound really funky. It's like a bunch of little pieces, like little loops working together. Then the music becomes more about a group sound, a drone sound. It's not like there's a bass and a guitar, it is as if we're all working as one machine and that is very much how electronic music works. The sounds we use often mimic vintage effects to create textures or sound colours heard in jungle, dub, techno or whatever. That was often what troubled me about jazz. These talented players always had great tone but only one tone. To me that's only playing in one dimension, you make music in terms of the traditional sense, organizing notes, but you can also create in terms of sound textures.
Upfront: Whom would you identify as your major influences?
JL: Seeing how I'm just one person I can only speak to my own influences but I kind of know what the rest of bands' are as well. I'm heavily influenced by jazz guitarists like Grant Green, Wes Montgomery, Melvin Sparks and Boogaloo Joe Jones. A lot of the soul-jazz guitarists that have a lot of blues and grit but also have the chops to play over changes. That's the kind of phrasing I listen to a lot. However, I've also listened to a lot of Grateful Dead and Jerry Garcia and his melodic ideas and his inventiveness has influenced me tremendously and of course where would I be without the innovations of dub pioneer King Tubby. Jamie is very influenced by jazz, by people like Mingus and Chuck Rainey, but has a deep love for Swedish and Detroit Techno. He is a techno and breaks DJ in his spare time. Adam is influenced by reggae like Linvel Thomson, Jackie Mittoo, and Winston Riley, but also listens to a lot of Herbie Hancock. Tyrone went to Humber as well so he's heavily influenced by jazz drummers like; Shelly Mann and Philly Joe Jones but he's also very into drum and bass, Amon Tobin and of course reggae greats Sly and Robbie have influenced his conception of playing.[/expand]
Warm, cinematic and highly textured - Errol Nazareth, Toronto Sun, 2004.
"…they do a stellar job making music that is warm, cinematic and highly textured." ~ Errol Nazareth, Toronto Sun, 2004.
Stereoscopic Review By Cheryl Thompson - 2004
The Chameleon Project is a local Toronto-based drum & bass/dub band. With the release of Stereoscopic, they hope to encroach upon the burgeoning electronic scene in the city. An instrumental album, Stereoscopic has just the right mix of drum & bass and rub-a-dub style beats to keep things interesting. No doubt, this group, which consists of Tryone Caissie, drums; Jamie Kidd, bass; Adam Hutchison, keys and Josh Laing, guitar/sampling, would lay down a killer live set. This album would make a great ambiance setter to an evening with friends or a chill-out backdrop to a lounge atmosphere. Not yet signed to a nation-wide distribution label, Stereoscopic is only available online on the band's website. There's a light shinning at the end of the Chameleon Project's tunnel — they're just waiting for the fans to flick the switch. So, turn on the light as this group is worth a closer look. (Independent)