Chameleon Project interviewed in Vents Magazine!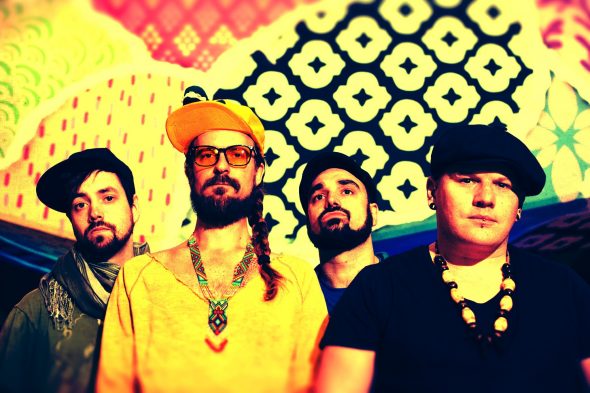 Chameleon Project interview in Vents Magazine
How would you classify your music?
Psychedelic Dance Music, Livetronica, Jamtronica, Acid Jazz, Fusion… unlike pretty much everything else out there.
Who are some of your top 5 musical influences?
1. Jazz Greats – Grant Green, Charlie Parker, Herbie Hancock, John Coletrane, Donald Byrd etc. 2. Grateful Dead 3.King Tubby  4. Steely Dan  4. Drum & Bass (Squarepusher, Amon Tobin, Roni Size etc.  5. Funkadelic.
What do you want fans to take from your music?
A voyage into intelligent dance music where catchy melody and soud texture keep the brain engaged while the beat keeps the body moving.  Also a fun dance party where anything can happen.
How's the music scene in your locale?
Toronto is a competitive market, as a world class city and the largest in Canada there are always big name act coming to town and smaller acts aspiring to tour here. The club scene here has become difficult due to venues closing in the face of gentrification and condos.  The electronic music scene is strong and dance music has a large following.
What is the best concert you have been to? What do you like most about playing live?
One of the best concerts I have seen was Phish at Alpine Valley, WI in 1997 and a close second was Gordon Lightfoot at Massey Hall a few years ago.  What I love about playing live is the improvising and playing groove music.  If you can balance both the audience will fill the dancefloor and never leave.
Is there a song on your latest CD release here that stands out as your personal favorite, and why?
I gravitate towards Kraken.  I like songs with themes and I really am fascinated with Cryptozoology and the study of myths and monsters.  Musically I love the textures and feel changes.
How have you evolved as an artist over the last year?
The band has begun to play in the North East US again last year and if has put a sharp focus on just how different audiences in different markets are and how much more engaged American audiences tend to be if you play music they like.  It has also made it clear to us how much more you have to try and win over audiences who have never heard your band.
If you could meet, play a gig, co-write a song, have dinner, have a drink with any band or artist (dead or alive) who would it be?
Jerry Garcia/Grateful Dead.  His playing and phrasing are magically to me and every time I hear him in an interview he makes me smile.  He was a genius and a kind soul.
What's next for you?  
We will be focusing on making some follow up recordings to Funk n Space in an effort to develop our sound while plotting more live shows in Canada and the US for the fall.