July 1st: Canada Day Jamtacular! Mutli-Band event @ the Corktown, Hamilton, ON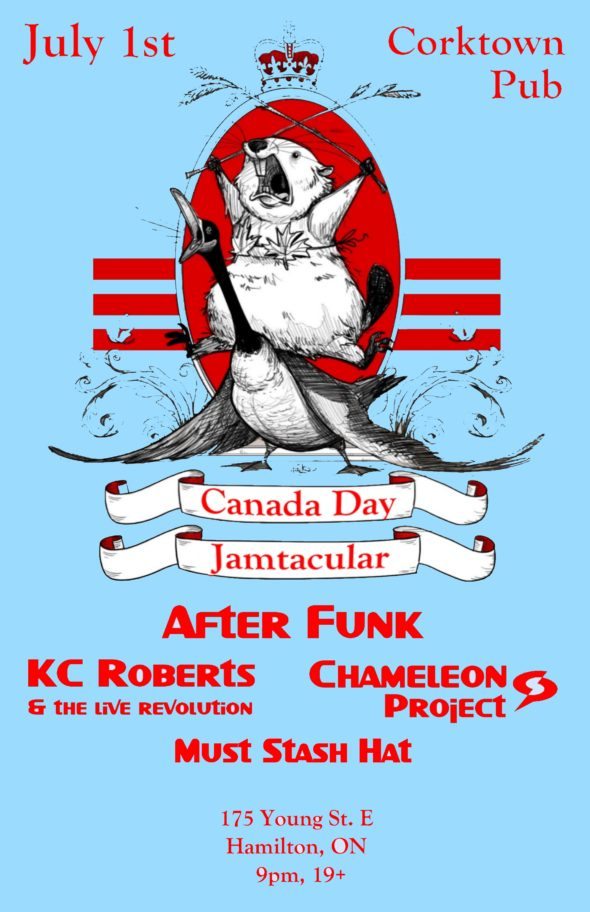 After Funk presents: Canada Day Jamtacular! @ The Corktown
After Funk w/ KC Roberts & the Live Revolution, Chameleon Project, Must Stash Hat
$15 advanced, $20 day of show, 19+
Afterfunk
Hailed as 'the grooviest band north of the border' (Live for Live Music), After Funk is one of Toronto's hottest up and coming bands. Keepin' the funk alive since late 2011 the group has adapted to the many changing soundscapes of feel good music. After Funk has keeps true to their roots in old school funk while creating something fresh and original for the wide demographic of their audiences. Ain't no party like an After Funk party.
Chameleon Project
The Toronto-based livetronica phenom The Chameleon Project blurs the line between electronic and organic sounds to create a psychedelic dance party that stimulates the senses. Fusing elements of groove-based jazz, electroncia, funk, disco, dub, reggae, and experimental rock, the music is both intelligent and visceral. The music combines the authenticity of live music with the psyche of electronica, experimenting with unique timbres, otherworldly vocal samplings, and heavy, tight beats. Often compared to such disparate bands as Bonobo, Medeski Martin and Wood, STS9, John Scofield, Thievery Corporation, Soulive, and the Disco Biscuits, The Chameleon Project mixes elements of the past with modern innovations into a signature style that is full of infectious, syncopated grooves. Their shows are pulsating dance parties whose energy is contagious. This is music for your mind, and your body.
KC Roberts & the Live Revolution
Drawing comparisons to The Roots, Jamiroquai and Janelle Monae, the band has regularly shared the stage with major international artists including Lettuce, Lee Fields, Five Alarm Funk, DJ Q-Bert, Mix Master Mike, Z-Trip and Blue King Brown. The recent tour gave the band an opportunity to show new fans across North America why TD Toronto Jazz Festival Artistic Director, Josh Grossman, calls KCLR "scary good…a blast to hear and just as fun to watch."
With five albums under their belt, KCLR's high-energy studio sound undoubtedly captures the buzz created by their live performances. Their latest album, From the North, is part one of a 17-song project recorded live in front of a four-person camera crew. By early 2016, each song on From the North will have its own music video, telling the song's story through unique art pieces.
Must Stash Hat
A Must Stash Hat show feels like it lasts for days while you're in it but when they end their last note, everyone is still screaming for ten more songs. Your body won't stop moving while they transition from an upbeat rocking chorus into a jazzy and relaxing hypnotic refrain before stretching it out, twisting it up into outer space and verging ever so close to awkward before exploding back in a most satisfying cymbal ridden rhythm, bass slappin' and bappin' on the hips of high laughing guitar chords pulling at the off beats.
Must Stash Hat is a three piece Toronto based jam band and the best way to see them is live and unshaven. Over 10 years of playing together, their talent for improvisation is powerful. These moustache men know each other too well to miss a beat.